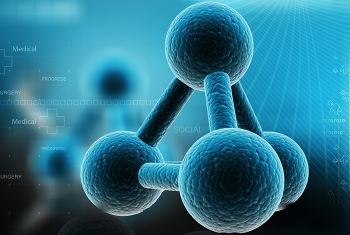 Geometrical structures
While idealized point particles, which have zero spatial extension, may often self-assemble to form ordered crystalline structures, those that attempt to self-assemble in one or more dimensions may not fit well next to one another - resulting in frustration. Such frustration may be the culprit for undesired filamentation, or anomalous growth, in protein assemblies, which occurs in a variety of conditions like sickle-cell disease and Alzheimer's disease.
Dr. Efi Efrati, from the Department of Physics of Complex Systems, and his research team have been seeking to classify and quantify geometric frustration in the most general framework. Recently, they were successful in setting the proper conditions for two-dimensional liquid crystals, where the constituents' geometry determined their relative orientation rather than position. The researchers mapped out all possible and impossible local geometries, and demonstrated strategies for optimal solutions for frustrated assemblies.
With a firm grasp on this geometry in two dimensions, Dr. Efrati and his team have begun exploring frustration in three dimensions—an understanding that is expected to be relevant to a myriad of self-assembling biological systems. One such biological structure is that of hemoglobin fibers that form in sickle-cell anemia. These structures form through the aggregation of the relatively large hemoglobin molecules, which are normally water soluble, into chiral fibers of a limited diameter and a high aspect ratio. This biological connection provides scientists with the motivation necessary to study frustrated assemblies, offering a naturally occurring path to elucidate a complex phenomenon.
Read More
about Geometrical structures