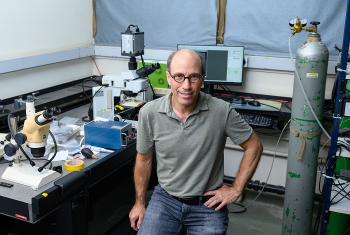 Understanding bio-materials to fight illness
Understanding materials in the living context crosses the traditional disciplines of biology, chemistry, and physics. Prof. Michael Elbaum and his group study enigmatic bio-materials and their properties, searching for basic physical principles underlying complex behavior. They also develop new tools for imaging and analysis of cells and biomolecules.
Coronaviruses such as SARS-CoV-2 are particularly prone to heat damage. Therefore, thermal inactivation is an important mechanism for decontamination of these viral pathogens.
Prof. Elbaum worked with Dr. Shahaf Armon, an intern in his lab and a past recipient of the Curwen-Lowy Postdoctoral Fellowship, to elucidate the thermodynamics underlying safe protocols for decontamination of shared instruments and personal protective equipment using heat treatments. They were able to create a model to predict thermal inactivation of the virus. Their predicted inactivation times could be useful for combatting the coronavirus pandemic in several ways, including predicting the period in which moderate fever is effective against the virus. This study was published in the Biophysical Journal in March 2021.
Read More
about Understanding bio-materials to fight illness