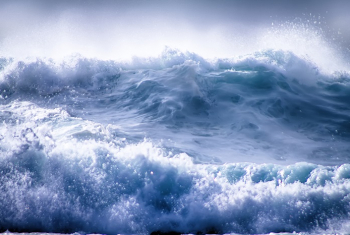 Finding order in turbulence
Prof. Gregory Falkovich has focused his career on understanding turbulent systems, or cases involving irregular fluctuations within a system. For example, in calm ocean waters, a sudden freak wave can occur seemingly out of nowhere. In a recent study, published in Physical Review Letters (2020), he and his PhD student Michal Shavit worked out a way to discern a degree of order in these systems
Applying mathematical tools belonging to information theory to turbulent systems, they demonstrated that even when turbulence is weak – for example, when the wind produces low waves or even light ripples that interact weakly among themselves – these waves or ripples can be highly correlated and carry significant information about one another. Over time, measuring waves of a particular length can provide information about unmeasured waves on unexpected scales. The scientists' finding is significant for turbulence modeling, because it means that existing data can actually help fill in the blanks about the parts of the system for which information has been missing. Furthermore, the applicability of these findings extends beyond turbulence to a variety of topics in fields ranging from civil engineering to experimental physics.
When building waterfronts, for example, it is vital to know as much as possible about the strength of waves in the area, including the probability of exceptionally strong waves resulting from interactions among weaker ones. Their new study may also have implications for the development of advanced communications along fiber-optic cables, which simultaneously convey multiple waves carrying information: As the density of this information increases, it will become ever more crucial to understand how these waves might interact with each other, including possible disturbances that could emerge. Yet another potential area of application is plasma research, in which it is important to know how ionized gas interacts with the various electromagnetic waves needed to create plasma.
The formulas derived by Michal and Prof. Falkovich use information theory to determine how many bits of information about a third wave can be obtained using its interactions with two other waves whose parameters are known. This research relates to the simplest possible case of making predictions within a turbulent system. The scientists' formulas will need to be developed further in order to make predictions about real-life systems, which may involve interactions among dozens or even hundreds of waves. Still, these formulas provide the basis for a new approach to turbulence: finding order within a turbulent system by measuring the information shared within its parts.
Read More
about Finding order in turbulence