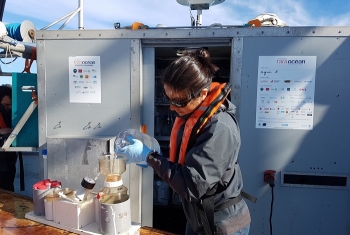 Atlantic algae studies
Several members of the lab of Prof. Assaf Vardi in the Department of Plant and Environmental Sciences were on board the 2019 Tara Atlantic expedition to the coast of Brittany, France, taking samples of Emiliania huxleyi, a unicellular alga that forms massive annual oceanic blooms. The biotic interactions that regulate the fate of these blooms play a profound role in determining carbon and nutrient cycling in the ocean and feedback to the atmosphere.
Annual E. huxleyi spring blooms are frequently terminated following infection by a specific large dsDNA virus (EhV) that belongs to the coccolithovirus group. Viral infection leads to a rapid remodeling of the E. huxleyi genetic transcriptome that results in rewiring of many cellular metabolic pathways.
Prof. Vardi and his team aimed to take a holistic approach to untangle the complexity of alga-virus-bacteria interactions during an E. huxleyi bloom in the North Atlantic Ocean. During the international Tara expedition, they were able to study many different parameters of their samples, including cell, virus and bacterial abundance, single-cell sorting, single-cell RNA-seq, 16S and 18S sequencing for microbiome diversity, electron microscopy, metabolomics, and lipidomics. In addition, air samples were collected daily for microbiome, chemical, and physical composition of aerosols. All these samples were shipped back to the Weizmann Institute and are currently being processed.
Read More
about Atlantic algae studies