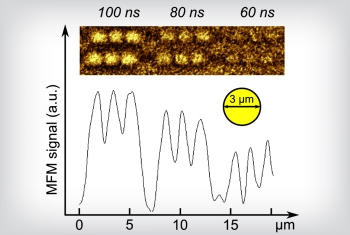 Optical magnetic recording
Increasing storage capacity is an ongoing challenge. Heat-assisted magnetic recording (HAMR) is considered the most promising future solution for the magnetic storage technology, as it is predicted to increase storage capacity, to accelerate the reading/writing speed and increase the data lifetime of future hard disk drives. This technology for hard drivers is based on the use of a small laser to heat the part of the disk that is being written to. The heat reduces the coercive field of the material, that is, it improves the ability of the material to react to external magnetic fields. After the heat dissipates, the magnetic field is switched off and the bit is "frozen" in its new magnetic state. The result is the increase of the quantity of information bits that can be stored on a given surface.
At the moment, industry concepts still fail to produce drives with sufficient lifetime. A study by Prof. Dan Oron from the Department of Physics of Complex Systems and his collaborators presents a method which may open an alternative route to high-durability HAMR.
Image (left): Arrays of magnetically recorded spots written using a 3-micron diameter heating beam (yellow circle) with varying pulse duration. The ability to write magnetic features significantly smaller than the HAMR heating laser is clearly demonstrated. [Credit: Scheunert et al., Beilstein Journal of Nanotechnology, vol 8, 2017]
Read More
about Optical magnetic recording