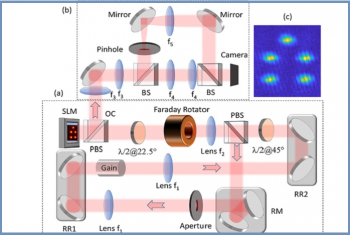 Addressing imperfect spin models
Recently, there has been growing interest in using physical systems, such as lasers, as a kind of mental short cut for optimizing classical spin Hamiltonians. Unfortunately, such physical systems inherently suffer from an inexact mapping between variances in the network (oscillations) and the gradual loss of energy. And that makes the laser models woefully inaccurate.
Prof. Nir Davidson, Dr. Oren Raz, and their colleagues have devised a scheme for addressing this difficulty, which they analyzed theoretically and demonstrated experimentally in the October 2020 issue of Nanophotonics. The scheme involves controlling the laser oscillator amplitude through modification of individual laser oscillator loss.

The researchers demonstrated this approach in a classical XY model simulator, based on a digital degenerate cavity laser (the theoretical analysis). They proved that for each XY model energy minimum, there exists a unique, corresponding set of laser loss values that coincide with it, in terms of both oscillation amplitudes and phase values. The researchers also demonstrated an eight-fold improvement in the deviation from the minimal XY energy by employing their proposed solution scheme (the experimental demonstration—see Figure 1). The results are an important step towards perfecting the use of lasers as spin models.
(Image: Schematic illustration of the experimental setup used to support a laser oscillator network and to measure its state. (a) Folded ring degenerate cavity laser supporting the oscillator network. (b) Interferometer for laser network intensity and phase measurement. (c) The detected interference fringes for a house laser network with equal amplitudes. Abbreviations: SLM – spatial light modulator; OC – output coupler; PBS – polarizing beam splitter; RR1 and RR2 – retro reflecting mirrors; λ/2λ/2 – half wave plate; BS – beam splitter; RM – reflector mirrors.)
Read More
about Addressing imperfect spin models