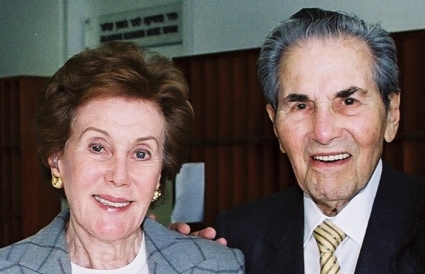 Video lenght:

03:16
Helen and Martin Kimmel
Helen Kimmel's philanthropic relationship with the Weizmann Institute of Science began together with her first husband Milton Kimmelman in 1980 and continued for more than thirty years with her second husband Martin Kimmel. Over the decades, Kimmel funding has supported more than 60 scientists and five centers at Weizmann.
After Milton's death in 1984, Helen wished to honor her late husband's memory and so established a research center as well as a professional chair for Prof. Ada Yonath, who went on to win the Nobel prize in chemistry in 2009.
"Many helped me along certain parts of the way," said Yonath, "but only one was a real partner throughout this entire marathon. That was Helen Kimmel."
When hosting a dinner for Weizmann donors and scientists in 1986, Helen met her second husband Martin. They married two years later and devoted their lives to philanthropy together. Soon after their marriage, the Kimmels financed the acquisition of 50 acres of land adjacent to the Institute, increasing the campus area by 20 percent. Since then, the couple's footprint on the Weizmann campus became increasingly evident.
In 2006, they created the Helen and Martin Kimmel Center for Stem Cell Research at Weizmann, to promote an area of research they felt would revolutionize the world of medicine, and initiated a collaboration with the stem cell center they established at NYU the year before.