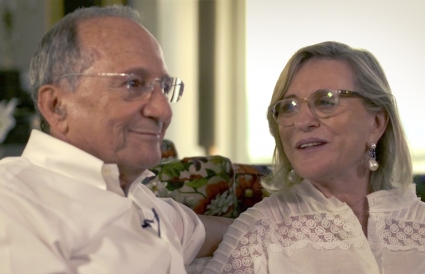 Video lenght:

02:56
Sami and Tova Sagol are active Israeli philanthropists who are dedicated to enriching Israeli society and the world. They have initiated several educational programs at the Weizmann Institute and beyond to address gaps in Israeli society and support cultural institutions as well as scientific research, mainly in the field of brain studies. Together, they established the Sagol Neuroscience Network, which supports multi-disciplinary research centers, laboratories and projects in leading academic, scientific and medical institutions.
Their concern about neurodegenerative diseases led the couple to establish the Sagol Institute for Longevity Research at the Weizmann Institute. The Sagol Institute promotes scientific activities that enhance our understanding of aging and the improvement of quality of life.
Sami and Tova Sagol have been friends of the Weizmann Institute for many years. Prior to the establishment of the Sagol Institute they provided philanthropic support enabling the establishment and operation of Davidson Online, the innovative and highly popular website of the Davidson Institute of Science Education.
For his accomplishments and his contribution to Israeli economy, science education, and culture, Sami was awarded an honorary PhD from the Weizmann Institute of Science in 2016. His honors and awards also include the French Legion of Honor Medal; a title of nobility from the government of Italy; the Schwab Foundation Social Entrepreneur of the Year Award; the Manufacturers Association of Israel's Industry Prize; several honorary degrees, and the Hugo Ramniceanu Prize for Economics.
Sami and Tova Sagol: Furnishing the future of science