Robert A. Belfer is a long-time supporter of the Weizmann Institute of Science and serves on its International Board. He graduated from Columbia College ('55) and the Harvard Law School ('58). Bob began a long career with Belco Petroleum Corp., a Fortune 500 company, where he was President for 20 years and named Chairman in 1985. The company engaged in exploration and development of oil and gas in the United States, Peru and Canada. Its assets now form part of EOG Resources. In 1992, Bob founded Belco Oil & Gas Corp., a leading independent producer of domestic oil and gas which is now part of Anadarko Petroleum. He is currently Chairman of Belfer Management LLC, a private investment firm.
Mr. Belfer supported the establishment of the Belfer Institute in 1996 and continued to support it. He named the institute in memory of his beloved parents, Arthur and Rochelle.
He is involved in several research and arts endeavors, along with Renee, his wife for over 55 years. Together they have three children, Shelly Malkin, Laurence, and Elizabeth Belfer, and five grandchildren.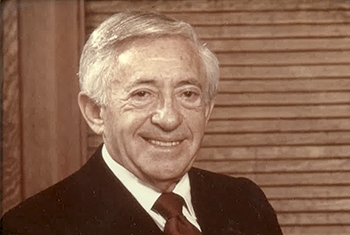 Arthur Belfer arrived the United States in early September 1939, leaving behind in Krakow, Poland his wife, Rochelle and three young children, Selma, Anita and Robert.  With the outbreak of war in Europe, America started to mobilize on the possibility of getting involved. Utilizing his experience in his prior business of processing feathers and down for pillows and comforters, Arthur shortly established himself as a leading manufacturer of sleeping bags for America's armed forces. By July 1941, he obtained Nicaraguan citizenship papers for his family, then a neutral country. Relying on these papers and her fluent knowledge of German, Rochelle brought her family to Berlin in order to get permission to leave the Third Reich. After four months in Berlin, she was at last able to get permission to go to Spain and from there they boarded a converted Spanish coal freighter for a month-long voyage to Cuba and afterwards to be re-united with Arthur on January 23, 1942.
Moving initially to Brooklyn, Arthur continued to prosper in the feather business, and with the outbreak of the Korean War, became the largest supplier of sleeping bags for the American armed forces. With high tax rates prevalent, he acquired a half interest in a Texas oil field with attendant tax benefits. Attracted to this new business, he formed Belco Petroleum Corp. and decided to acquire exploratory acreage for oil and gas in Wyoming, where he was joined by his son, Robert (Bob). If enough natural gas reserves could be developed, a pipeline would be built to serve the Pacific Northwest. Success in this endeavor, followed by expansion of oil and gas exploration in the US, Peru and Canada as well as investments  in coal mining in West Virginia and petroleum marketing and exploration in Israel, resulted in Belco Petroleum becoming a NYSE Fortune 500 company. Following mergers, Belco became part of Enron Corp. where he and his son served on its Board of Directors.
His first wife, the former Rochelle Anisfeld, passed away in 1961.

In the center: Arthur and Rochelle Belfer at the Dedication of the Pacific Northwest Pipeline.