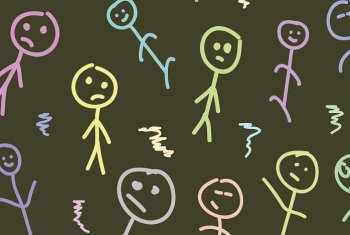 Understanding Body Language
Being social creatures, humans rely on the nuances of body language to function well in society. Understanding the way body language works could help researchers gain a deeper understanding of neuroscience, improve human-machine interfaces, and develop more efficient ways to train people on the autism spectrum to read social cues.
Prof. Uri Alon of the Department of Molecular Cell Biology investigates the two main theories in the filed: the "Emotional body language" theory, that originates in psychology, and the "Dramatic action theory", that focuses in transitive verbs: to encourage, to comfort, to threaten, to scold, etc.
Testing these theories required a large and unbiased set of body posture stimuli in a social context. While most studies employ pictures of actors or cartoons in a small range of postures, Prof. Alon used a different approach: namely, stick figures.
Because stick figures represent the human body with just a few angle coordinates, this method allowed him to generate a systematic and unbiased set of body postures and, consequently, enabled him to more accurately and methodically analyze different body configurations. By varying these angles, Prof. Alon systematically compiled 1,470 body configurations in pairs of stick figures.
Online participants of the study scored these stick-figure images using a defined set of eight dramatic actions and 20 emotions. Prof. Alon found that not only did subjects assign dramatic actions to images more frequently, but they more often agreed on the type of dramatic action for a given image. Emotions were assigned to fewer images and primarily centered around the more general adjectives "angry," "confused," and "embarrassed."
Through this process, Prof. Alon and his team created a dictionary of stick-figure body postures with defined dramatic action and emotional meanings, which they hope will be useful for future research, automated image understanding, and to train people (perhaps those with Autism Spectrum Disorder, for example) to understand body language.
Read More
about Understanding Body Language