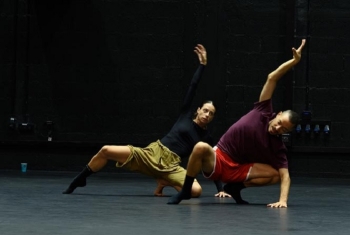 The Braginsky Center's Artist in Residence Program provides a framework in which an outstanding leader in literature or the arts are invited to work and create on the Weizmann Institute campus for a semester, and to entering into a deep dialogue with science. Selected based on the original project proposals, participating artists-in-residence cap their time on campus with the creation of a work of artistic or literary merit that draws from the common creative spark shared by science and the humanities, and which will be left behind at the Weizmann Institute at the end of the artist's stay.
Past participants and projects include
Shahar Binyamini, a dancer and choreographer, worked on campus for a period of six months creating a new dance piece.
Rehearsals for this piece took place at the Michael Sella Auditorium. As part of the residency, Shahar visited some labs and invited scientists to watch the dancers rehearse and to have dialogues with him and the dancers. It was a unique opportunity for both sides.
Interview: When science meets dance