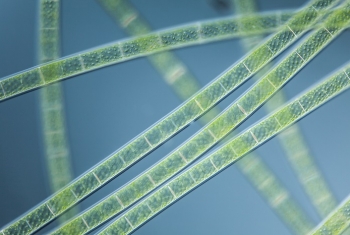 Algal-Bacterial Interactions
Dr. Einat Segev from the Department of Plant and Environmental Sciences is exploring a unique interaction between the E. huxleyi algae and a microbe that thrives in the surrounding marine environment. Rather than looking at the algae and a virus, however, she focuses on the interplay between the algae and bacteria. She has shown that this complex microbial relationship may be one of the driving factors behind the algae's incredible growth and rapid bust. The tug of war between bacteria and marine algae leaves traces in the geologic record that she believes could provide clues to our past climate.
When Dr. Segev tried growing algae together with bacteria in a single test tube, the algal growth cycle went into high gear. This allowed her to identify something never known before—not only that algae and bacteria depend on each other, but also that the relationship is ultimately lethal for the algae. She observed that marine bacteria physically attach to algae, and also determined that algae provide bacteria with food. The bacteria "reciprocated" by producing a growth hormone that drove the algal life cycle forward—up to a point. After just a few weeks, the bacteria produced the hormone at a lethal level, ultimately killing the algal host and freeing the bacteria to swim away to attach to an alternate food source.
Dr. Segev is currently preparing a more complex model that, like the ocean environment, includes more than one type of bacteria. Her approach makes it possible to predetermine the temperature at which algal death occurs in the test tube—a capability that may eventually be able to help climate scientists understand the geological record with greater accuracy.
Read More
about Algal-Bacterial Interactions