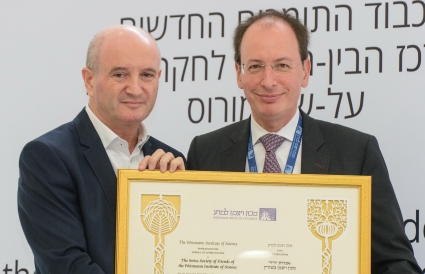 The Swiss Society of Friends of the Weizmann Institute of Science
The Swiss Society of Friends was founded in 1974 by a small group of scientists, with the aim to make the Weizmann Institute better known in circles of research and industry in Switzerland and to enhance public awareness of its scientific research conducted for the benefit of humanity.
Over the years, the membership base of the Swiss Society has gradually increased.Today, there are more than 650 Swiss friends, many of whom are donors to the Institute.
Among the aims of the Swiss Society is to grant PhD or postdoctoral fellowships. This program is a two-way street, with Israeli PhD candidates and postdocs hosted by Swiss institutions as well. The Society also provides funding for talented Swiss students to participate in the Dr. Bessie Lawrence International Summer Science Institute (ISSI), a four-week summer camp, attended by some 75 youth from all over the world, which exposes participants toreal-life laboratory conditions and the opportunity to work under the supervision of internationally recognized scientists. The visiting PhD students, postdocs, and high school graduates from Switzerland return to their country as true ambassadors of the Weizmann Institute of Science and of Israel.
Mr. Eric Stupp serves as Chairman of the Swiss Society, and its board consists of active friends and supporters of the Institute.The Board of the Swiss Society is also composed of Dr. Boaz Barack, Mr. Alexander Dembitz, Prof. Marc Donath, Prof. Michael Fried, Dr. Samuel Ginsburg, Mr. Rolf Jsaac, Prof. Markus Manz, Prof. Martin Quack, Prof. Martin Schwab, and Dr. Herbert Winter.
The Society is funding the Swiss Society Institute for Cancer Prevention Research in the MICC.
From left to right: Prof. Martin Schwab, Board Member; Dr. Herbert Winter, Board Member; Mr. Eric Stupp, Chairman; Dr. Samuel Ginsburg, Board Member; Mrs. Hadar Papatrechas, Zurich office manager