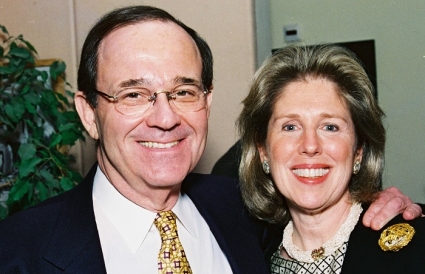 Gershon Kekst and his wife Carol have been generous supporters of the Weizmann Institute on various fronts, including the Gershon Kekst Professorial Chair, the Kekst Family Institute for Medical Genetics, and the Gershon Kekst International Office established by Carol and his children in his memory.
The late Gershon Kekst was a Chairman of the Board of Governors of the Weizmann Institute from 1993-2002, and was elected as a Life Member of the International Board. He served in many leadership roles in the American Committee. He was awarded a PhD honoris causa in 1995.
Gershon was born and raised in Salem, Massachusetts, and educated at the University of Maryland. He was founder of the prominent and successful financial public relations firm, Kekst and Company, where he remained at the top of his field for four decades. He was a pioneer in the generally new field of using public relations techniques to influence financial transactions.
In addition to his long career in business, Gershon Kekst was known for his passion for philanthropy. He used his experience and skills for the promotion of causes close to his heart and recruited his friends and clients to support these causes as well. Gershon served as a Fellow of the American Academy of Arts & Sciences, as a Member of the Board of Trustees of Brandeis University, and as Chairman of the Board of The Jewish Theological Seminary.