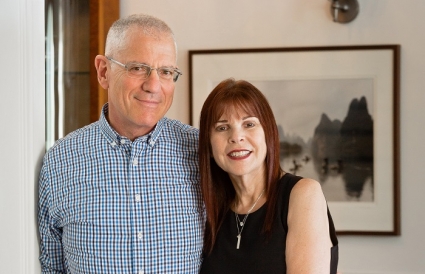 Video lenght:

05:32
Vera and John Schwartz
Dr. John Schwartz, a physician and an entrepreneur, graduated from Columbia College of Columbia University, earned his medical degree at New York University, and continued his training at New York's Bellevue Hospital and at the University of California, Irvine. After founding Continuing Medical Education, Inc.—America's largest provider of clinical information for doctors—John turned his talents to the world of finance. He founded Value Investing Congress, which provided continuing education and information for hedge fund managers and high-net-worth investors from around the world.
Vera Schwartz worked in the acquisition and administration of medical research grants at UCLA for 23 years. She then served as chief operating officer and chief financial officer at the Department of Veteran Affairs (VA) Health Services Research Center in Los Angeles for the following 20 years. At the VA—the largest healthcare provider in the U.S., providing healthcare to veterans—she oversaw a staff of 200. Among the advances that occurred under her leadership was a major study of women's health needs within the system, which led to the VA's establishment of hundreds of specialized women's health clinics throughout the country. In addition, she was instrumental in overseeing a research fellowship program in health services research.
Vera is also a lifelong dancer who does all types of dance, including hip hop, jazz and lyrical. She relishes her state-of-the-art kitchen and loves to bake and cook—a skill she has passed down to her daughter and her oldest granddaughter. Vera also studied landscape architecture at UCLA and designed their beautiful drought-tolerant gardens in Pacific Palisades.
The couple live in Pacific Palisades, where they are active in many philanthropic causes in Southern California. They first visited the Weizmann Institute of Science in 2004, and have since given generously to support numerous areas of research across the campus, including studies on gallium arsenide, a key element in the production of semiconductors and solar cells.
In 2015, they created the Vera Rosenberg Schwartz Research Fellow Chair, of which Dr. Hagit Shapiro in the lab of Prof. Eran Elinav is the incumbent; in 2019, they established the Vera and John Schwartz Professorial Chair in Neurobiology, whose inaugural incumbent is Prof. Alon Chen, the current President of the Weizmann Institute. Vera and John are also dedicated supporters of the Davidson Institute of Science Education, the educational arm of the Weizmann Institute.
They provided the founding gift for the Vera and John Schwartz Family Center for Metabolic Biology in 2017. Vera and John have three adult children and eight grandchildren.