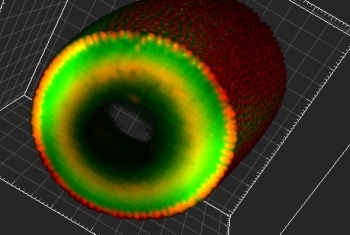 A fly embryo
This is a visualization of transcription dynamics in a live Drosophila fly embryo under Lightsheet microscope.
The nuclei appear in red and the active transcription of the gene snail is detected by the MS2 system resulting in a fluorescent signal. In other words, the green dots inside the nuclei mark the intensity of gene expression.
This tool enables us to study transcription dynamics in a quantitative manner.
Courtesy of Neta Strasser-Rahimi, Benny Shilo lab.
Read More
about A fly embryo